A new setup item has been added to ServicePoint in build 220, called "Forms Groups", allowing users to define a collection of forms/reports that will print together automatically.  Multiple forms with different destinations may be defined in a group, and all forms are executed when the group is used.  For example, checking in a piece of equipment for service/repair can automatically generate a receipt for the customer and a tag to be attached to the incoming item.
Each form within a group can be defined to be sent to a user-defined destination. The choices for destination are:
Select at print time – This option will bring up the same print window that has been presented in prior versions, allowing the user to select an alternate form and specify whether to Preview or Print the form
Preview – This choice will immediately display the specified form in a preview window when executed.
Allow printer selection by user – The specified report form will present a Windows printer selection window at print time, allowing the user to select their preferred printer.
Route to specific printer – This option allows the selection of a specific printer in the forms group definition, automatically routing this form to the particular printer when the group is invoked.
Email – Selecting the Email option, allows entry of the email to use, routing the report output directly to the proper email recipient at print time. Options exist to email the WO customer, the technician assigned to the service call, or a specific email address.  Multiple email recipients may be specified.
Here are some screen shots of the setup: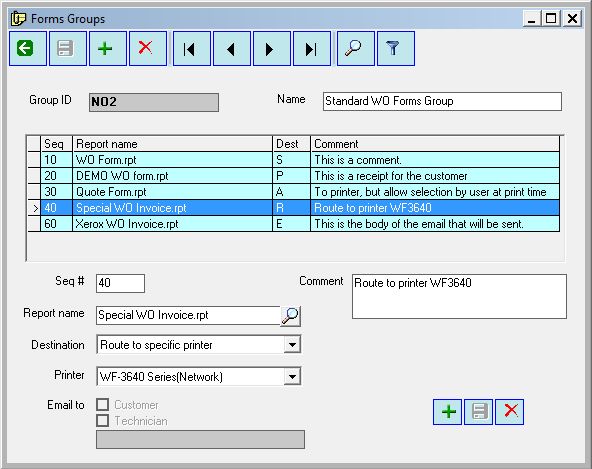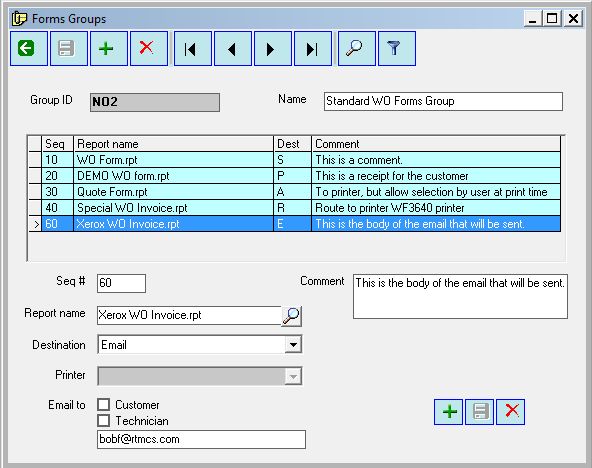 A group may be selected in ServicePoint Control Information under the "Default work order group", and also as a default work order group in Work Order Status Codes. (In both of these locations, a single Crystal report file may still be typed in to default to the single specific form)
For full release notes, click here!