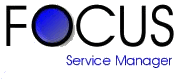 Today more than ever, our demanding economy requires that every business closely monitor and effectively manage their resources.
This is especially true of the service industry where competition is often fierce. As a leader in innovated ideas and solutions, we are dedicated to assisting businesses run in the most efficient manner.
A fully integrated vertical product, FOCUS will help productively manage and simplify all facets of your service, support, and repair business.  FOCUS is the clear choice in service software.
Service Call Management
Scheduling / Dispatching
Billing
Contract Management
Reporting
Equipment Management
View FOCUS brochure (PDF)

For those who perform service on a smaller scale, we offer FOCUS Lite as an alternative.  FOCUS Lite is a reduced feature set of FOCUS Classic.  It has all the basic power of standard FOCUS inside.  To learn more about FOCUS Lite, view the FOCUS Lite brochure.
Release Notes FOCUS 8.1
Release Notes FOCUS 8.0
What types of companies use FOCUS?

Audio-visual systems

Appliance companies

Boiler and burner service

Commercial scale sales and service

Commercial kitchen equipment

Computer service

Copier service

Elevator installation and maintenance

Environmental control systems

Pool and spa dealers

Heating and air conditioning companies

Lift truck sales and service

Marinas

Office equipment sales and service

Overhead door sales and service

Petroleum equipment installation and repair

Plumbing companies

Fire suppression systems

Sports and Exercise equipment

Point of sale equipment

Pumps and compressors

Recreational vehicle sales and service

Portable toilet rentals

Refrigeration systems

Security and alarm companies

Telecommunications companies

Vehicle maintenance

Vending machines